INTERNATIONAL PATIENT EXPERIENCES
Gary Whitefill's gastric bypass Surgery in India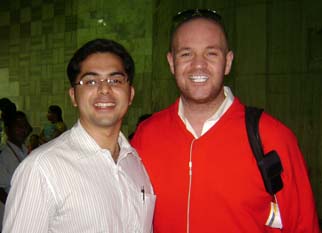 First and foremost I would like to personally thank Forerunners Healthcare Consultants for taking my case. I have struggled with my weight, had a history of eating disorders and binge eating since I was 16 and, by the age of 32, after years of constant internal battling, I finally feel like I have restored my body's natural balance of satiety, have regained control over my food intake and in turn gained a tremendous sense of well being.
Dr. Dheeraj Bojwani have successfully assisted me in achieving a dream that has eluded me for more than a decades. I researched a lot on the internet for pocket friendly gastric bypass surgery. I first considered to get my surgery in Belgium. But when I came across Forerunners Healthcare Consultants I was surprised by the appealing rates quoted by the associate of Forerunners Healthcare Consultants. I was happy with the replies and the prompt answers for all my queries. This was the main reason behind choosing Forerunners Healthcare Consultants for arranging my gastric bypass surgery in India.
My experiences of Forerunners Healthcare Consultants service, staff, personal and general approach have all been superb and I would not hesitate to recommend Dr. Dheeraj Bojwani and the whole Team of Forerunners Healthcare Consultants. In fact I am a very vocal spokesperson, marketing and promoting the advantages of Forerunners Healthcare Consultants processes. Perhaps Forerunners should introduce a recommendation reward system, but in fairness, if I can spread the happiness I now feel to people I love and care about, it is in itself reward enough.
There are a number of members of staff I would particularly like to single out as having majorly contributed to the extremely positive experiences I have had with Forerunners Healthcare Consultants. Dr Dheeraj Bojwani was my first port of call and he has been a consistent, enthusiastic consultant and general ray of sunshine throughout. Not only was he one of the main contributors in persuading me to actually have gastric bypass surgery in India, he unwaveringly reassured me of its success, allayed any fears and yet remained impartial and not "pushy" as to when or where I should have it done. He is a bright, friendly voice at the end of the phone, ever helpful and professional in his manner, but reassuringly down to earth and informal thus always putting you at ease. Just the right balance and a true walking inspiration as to what gastric bypass surgery in India can do.
My next exposure to your staff and colleagues was just as positive. The staff in Forerunners Healthcare Consultants was attentive, thoughtful and informative. Every one was professional going out of their way to reassure me, waylaying any fears I had and just sporting an air of confidence that was in itself calming.
Every subsequent interaction with Dr. Dheeraj Bojwani has been encouraging. Support group sessions have been not only interesting, but also useful. Interacting with the associated gastric bypass surgeon of Forerunners Healthcare Consultants was very much helpful and Forerunners Healthcare's staff generally just seem to go above and beyond the call of duty. Their enthusiasm reflects their conviction, their effort and dedication is a credit to Dr. Dheeraj Bojwani and them and I think Dr. Dheeraj Bojwani have a superb asset in the staff he employs.
I just wanted to take this opportunity to extend my thanks and hand out praise where praise is due. Too often people take the trouble to complain and I just wanted to put the effort into writing a dedication to Forerunners Healthcare Consultants for their wonderful help and Support of Dr. Dheeraj Bojwani for my gastric bypass surgery in India.
To get medical consultation you can Contact Us