INTERNATIONAL PATIENT EXPERIENCES
Tummy Tuck and Breast Lift Surgery India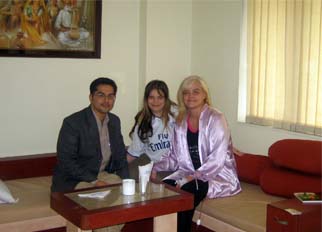 I came across Forerunners Healthcare Consultants in India on Internet and, because I had been thinking about getting a tummy tuck and breast lift surgery, checked out the company on the web. Dr Dheeraj Bojwani a wonderful and competent young man who answered all my questions and helped me begin the process contacted me. It is now two months later and I am just recently back from India after having a wonderful vacation and receiving a great "new look."
The plastic surgeon has the highest credentials and performed a fine job with kindness and concern for my safety and comfort. Forerunners Healthcare Consultants made sure I had good accommodations, a good personal driver and even someone to look in on me following surgery.
Following my three day stay in the hospital, I continued my recuperation at a good hotel for four nights and then moved again to a resort hotel right on the beach for five days before flying back home. While one might think because the cost of living is so much lower than in Texas., that the standards are too, but this is not so at all. The hotels were fine and equivalent to what you would find at a nice hotel here, but at a fraction of the cost. The people of India are the friendliest people I have ever met and I felt as safe there as I ever have anywhere. For me, a real bonus was that so many speak English! That makes everything so easy! India is a long way to go, but I don't have any regrets about going there for my surgery. I got to see a country I have never seen before, meet some wonderful people and have a great tummy tuck and breast implant surgery that I could not have afforded here in the Texas.
Patrachia
Texas
---
Mr David Johnson - who underwent Minimal Invasive Laparoscopic hernia repair at the wockhardt hospital.
He says- "I am very thankful and grateful to Dheeraj Bojwani And Forerunners Healthcare - who co-ordinated my full trip. The rates that he got me for the surgery were unimaginable. The myriad of phone calls and emails,arranging my visa on time Were so wonderfully co-ordinated that my trip was absolutely Hassle free and was a wonderful experience.
If the need arises again-I would be back here without a second thought
---
Dr F Alyamini - who came to India -from South Africa-who came to India for Comprehensive Health Checkup and Package.She stayed in India for two days and underwent all the tests- Blood tests, Cardiac tests, Renal Tests, Liver Function Tests, Neurology, Spine and consultations with some doctors.
Dear Dheeraj-Keep up the good work. Everything just went perfect.I travel once in a year to get the full body checkup done .but this was the best I ever had.
My best wishes for Forerunners Healthcare.
---
I decided to have surgery for weight loss because I felt like my body was dying. I had high blood pressure, sleep apnea, and severe back and joint pain. I was on 4 medications for BP and used a BIPAP to sleep. I was always tired and depressed. After reaching the lowest point my life as i weighed 343 pounds and suffered from chronic reflux disease which resulted in very bad heartburn even though I was on maximum medication. At night acid would run out of the corners of my mouth and burn my lips and despite being told by surgeons that I needed surgery to correct the problems with my stomach they also said that with my weight it wouldn't be possible.
I began a battle for some sort of weight reduction surgery when finally i stumbled upon an article on internet about a lady who had had this operation in India through Forerunners Healthcare Consultants made some enquiries and decided to book her operation through Forerunners Healthcare Consultants less than a month later and after numerous letters and e-mails to & from Dr Dheeraj Bojwani, I decided to Fly to India.
The whole process was trouble-free; everybody was very kind and helpful from Dr Dheeraj Bojwani to surgeon and all the other hospital staff. I was never made to feel fat. My recovery was quick, but better still my heartburn was immediately 90% better and I was able to half my dose of medication. I started to lose weight straight away and three months down the line. Since the surgery I have lost 135 pounds. I am off all my BP meds and I no longer need the BIPAP for sleeping. I feel like my body is 20 years younger. I can walk with less pain and I can breate much easier. Laparoscopic Gastric Bypass Surgery saved my life; can't wait to go on a roller coaster! I don't think I have enough words to express how happy I am with my surgery. Thank your Dr Dheeraj Bojwani and Forerunners Healthcare Consultants for saving my life!
Karen Stolberg
Denmark
To get medical consultation you can Contact Us