INTERNATIONAL PATIENT EXPERIENCES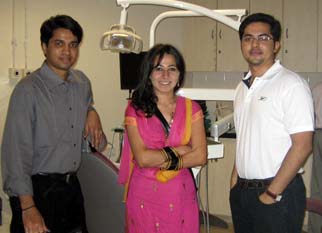 I had experienced dental problems for about 5 years I ground my teeth due to stress but had a fear of the dentists. My teeth deteriorated to the extent that when I finally plucked up the courage to visit a dentist he was told they were as badly worn as somebody in their 70's. I was told that extensive dental repair work was needed but I couldn't afford it at the time. I only went back to the dentist to have fillings replaced. Becausee my toothache was so bad I decided to search the internet for temporary fillings and stumbled upon Forerunners Healthcare Consultants, India.
I explained my problem to Dr Dheeraj Bojwani and sent photos of my teeth then received an estimate, which was approximately 70% cheaper than what quoted in Germany. I immediately booked a flight to India where I had twenty porcelain veneers, five laminates, dental crowns (ceramic) and two tooth whitening treatments. The treatment came to £1,980, and I paid £800 in travel and accommodation costs which made the overall cost £2,700. The same treatment in the Germany would have cost almost £9,000-£11,000.
Forerunners Healthcare Consultants took care of organising the hotel and transfers and I met the dentist for my first session as soon as I arrived. After a week of long sessions where every tooth was ground down and rebuilt I was the proud owner of a whole new set of teeth. I didn't enjoy being in the dentists chair but the staff at the clinic made the experience a lot better and my fears were allayed. When I got home I suffered from toothache for a while but this soon passed and I can now eat normally and drink hot and cold drinks which gave me so much pain before. I intend to return to India in the near future and meet everyone again.
Nauzha Kacem
Germany
---
Alyssa Reed
Starting Weight before the surgery: 259 pounds.
Weight approx 12-15 months after the surgery: 130 pounds.
My name is Alyssa Reed and this is how I changed my life with the gastric bypass. I have been over weight and miserable for years. I have fluctuated between 195 pounds and at my highest of 298 pounds. I am currently 5'6" tall and I weigh 130 pounds. After trying various liquid diet programs, weight loss shots, pills, and packaged diet food plans, I was finally at the end of my rope. I could no longer fit into movie theater seats, I could no longer shop for normal size clothing, I had avoided all family functions, and I would always have an excuse to never to go out wearing a bathing suit.
I started to develop physical problems from being so over weight. No matter what I tried I just could not keep the weight off. I am a mother of five, a beautiful girl, four handsome boys, and a loving and supportive husband. My weight has always been an issue with me. I had done some research and decided to go through with the GASTRIC BYPASS procedure. There were several doctors in my area that performed this surgery and after careful investigation there was only one doctor who stood out from the rest and is name is Dr. Dheeraj Bojwani in India. This was one of the biggest and hardest decisions I have ever had to make. What really made me decide to go through with this procedure was when I over heard my oldest son's friend say to him "Gee — your mom is really fat." This is when I picked up the phone and made the call to Forerunners Healthcare Consultants. I went to India DR Dheeraj Bojwani support was very pleased with the positive outlook he exuberated. He gave me hope for a thinner and healthier lifestyle; this surgery has changed my life forever. My surgery date was on Jan 20th, 2005. My pre-surgery weight was 260 pounds. To those of you who think this was the easy way out for me need to think again. After surgery, you do not diet. You have to change the way you think and eat for the rest of your life. This is a lifetime endeavor and it will not be over in just 6 months or so. I had eaten healthy and exercised every day since surgery. In 11 months, I had lost 130 pounds and I went from the big lady store to Nordstrom's. I made it to a size 6, full of life, and now I am what I have always dreamed. My husband does have a difficult time keeping up with me, though he does try his best. To be a go anywhere, do anything, wife and mom I still cannot believe how good I feel. During my 11th month post-surgery, I became pregnant with my fifth child in Dec of 2005. I was so happy and yet so sad. I was terrified to once again gain this weight back. After all the hard work I had gone through to be successful with this procedure, I was getting fat once again. I did not even have the chance to reach my one-year anniversary. It was all worth it, for my first and only girl of five. This surgery has strengthened my self-esteem. I am proud of my success and I can't thank Dr Dheeraj Bojwani and the support group meetings enough for helping me focus on the important things in my life. I continued with the same program of eating well and watching my weight. During my pregnancy I gained a total of 41 pounds. My baby girl was born on September 2006 . She weighed 6 pounds 6 ounces and was a healthy, normal, beautiful girl. I continued to follow the program of eating right and exercising. One month later I had lost all the 41 pounds I had gained during my pregnancy. Nine months after the birth of my girl, I continue to maintain my weight loss. I still weigh in at 130 pounds in a size 6. I now feel I firmly have control over my weight. "I WISHED FOR IT, I DREAMED FOR IT, AND THANKS TO Forerunners Healthcare Consultants. I AM LIVING IT."
---
Mr Joginder Hooda and wife-from Ontario Canada- who came to India with their daughter to attend the Delhi Annual Marathon .The couple took a very comprehensive medical health checkup package plan in Apollo Indraprastha Hospital-New Delhi India.
As an apparent finding the ECG of Mrs Hooda showed some changes in the cardiac cycle.She is currently on medication for the heart condition.
Dear Dheeraj-You have done a marvelous job.Getting a health checkup is such a pain in Canada-you have to wait half your life to get it done.We are tired of waiting their in lines.
Even for small things like Health checkups.Our while family is in Canada,and I am going to recommend you and your company Forerunners Healthcare to everybody.
To get medical consultation you can Contact Us