INTERNATIONAL PATIENT EXPERIENCES
Hernia Surgery and Dental Implant Surgery in India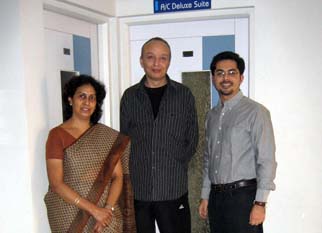 Dear Dr Dheeraj Bojwani,

I can't thank you enough for the gift you've given us. My reversal was done on 5/29/07. After a lot of research, discussion, and thought. More than one prominent doctor had told me "not to bother" with the procedure after such a long time (approximately 17 years since vasectomy). My wife found Forerunners Healthcare Consultants while doing research on the Internet; his success rate really caught our eye. When I contacted you.
After speaking to you via email/phone, as well as speaking with one of your formal patients who got the same procedure done, and doing extensive research, I decided to fly out to India to have the reversal procedure done. It was the best decision I ever made. I would like to sincerely thank you for all that you did for me.
You showed considerable compassion/patience while answering all my post-surgery emails, getting me in touch with former patients and talking me through this life changing procedure. If you ever have a patient that would like to talk to any of your former patients, please don't hesitate to call me. I would be delighted to talk to them about my experience with you and your entire organization I can't say enough about my whole experience. Thank you all again for the wonderful job you did, and the wonderful gift we have been blessed with as a result.
Howard Croft
---
Early this year I was diagnosed as needing a Hernia Surgery. Once there was an article on the internet concerning a British Businessman who was quoted a 17 month wait for hernia surgery and who had decided to go to India. I immediately followed this up on searching medical tours in India Web Site and ended up with Forerunners Healthcare Consultants in India and their medical services in India, as my wife was traveling with me and she had also decided to have dental implant surgery, by Forerunners Healthcare Consultants.
We were met at Mumbai Airport by Forerunners Healthcare International Patient Cell Representative and transported in an air conditioned Limo to the Hospital, where we were installed in a suite room, with a separate couch -cum - bed for my wife on the 16th Floor of the Hotel overlooking the Mumbai sea.
From that moment we were treated with the utmost care and attention and immediately visited by Dr. Dheeraj Bojwani had my Hernia surgery and the following week my wife had her Dental implant Surgery.
We are very pleased with the whole trip and would not hesitate to recommend Dr Dheeraj Bojwani and Forerunners Healthcare Consultants.
Nuga Meyha Family
Kenya
---
Mr and Mrs Moeller from Denmark who both underwent Cosmetic Surgery In India. Marianne Moeller- Blephroplasty and Liposuction surgery Jacob Moeller- Liposuction Surgery.
A simple thank you is not enough for the wonderful care your senior cosmetic / plastic consultant Dr. Milind Wagh has provided throughout the procedure. He is a rare and valuable individual, a true artist of the human body. He respects and recognizes the fact that every one is unique (having different shapes and sizes) and tends to each different goal and expectation with careful attention.
Dr Dheeraj Bojwani was available to us through the entire treatment process and the care that we were getting in India. From the calls to the consultation, to the surgery to the follow-ups, every single person of Forerunnershealthcare Consultants has been a complete pleasure to work with.
I am thankful to Dr Dheeraj Bojwani and the wonderful staff of Forerunnershealthcare Consultants.
To get medical consultation you can Contact Us